You cannot add "Carnelian Skull" to the cart because the product is out of stock.
HANDCARVED
SKULLS
MADE FROM CRYSTALS AND GEMSTONES
Legend states that thirteen crystal skulls were expertly carved tens of thousands of  years ago in Pre-Columbian Mesoamerica by the Maya and Aztecs without the aid of modern lapidary tools. Many of these exceptional specimens are held in museum  collections around the world, and though their origin and authenticity is contested, it is commonly agreed that they are powerful. Many theories are purported about the skull's significance; some believe they were intended to invoke Aztec gods; some say they remind us of the eventuality of death; some believe their crystal structure is able to store information as a microchip can. In this way they are depositories of knowledge that can be passed down through generations. Some even claim healings, expanded psychic abilities and spiritual experiences when in the presence of crystal skulls. It has been put forth that each of the thirteen original skulls is like one volume of an encyclopedia and that when the skulls are assembled together again, future humans will be able to extract their wisdom.
Our Crystal and Gemstone Skulls are expertly hand-carved by a sculptor using a unique variety of materials including Quartz, Carnelian, Amethyst, Pyrite, Crysacolla, Lapis Lazuli and more.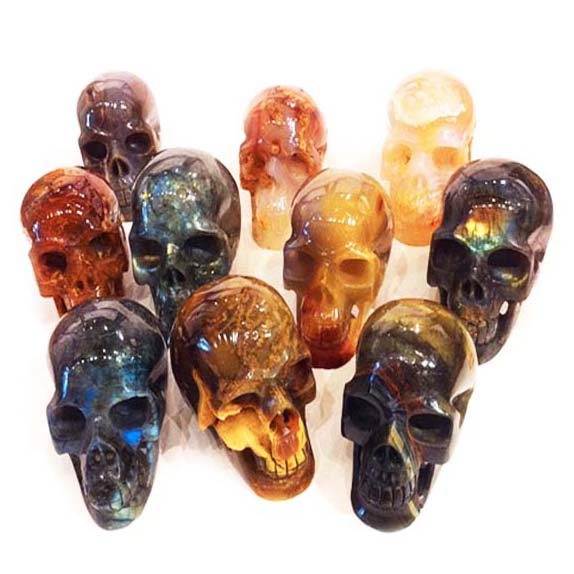 International Shipping


Secure Payments with paypal